At the heart of the future of journalism is a question all journalists will find themselves having to answer: Just how involved are you prepared to let readers become in your work?
New platforms may have be the physical manifestation of change in our industry,  but platforms come and go. What 'the internet' and 21st century technology has brought with it, more than anything, is the ability for people to share their own news, report their own news and decide how they want to consume news.
Amy Webb, the futurologist, speaking at the Online News Association conference in Chicago last month, picked out her 10 trends for journalism in 2015. Wearables, as you might expect, was among them. The challenge she said this would pose journalists would be to answer the question: How will people use these to consume content? The idea of 'glance optimised headlines' was floated – stuff people would consume on the wearable of their choice.
Amy suggested most of this was perhaps three years out. Some it still feels very The Jetsons. There are hundreds of wearables being brought to market. Yet again, they will empower our readers to decide how, and when, they consume content.
And that empowerment of the reader isn't just about how they consume content. Increasingly, readers expect to have a greater say in what we do, how we do it and why we do it. A newsroom which isn't listening to its readers every day, and constantly thinking of news ways to get the reader involved, is a newsroom which is destined to become irrelevant.
A newsroom which thinks the letters page constitutes the beginning and the end of the reader having a say is a newsroom which will have problems in the future. Allowing comments under articles isn't enough either – reporters need to get involved in the comments and form communities around their work.
If a newsroom sees User Generated Content (UGC) as a way to fill the paper, it will have a much shorter relationship with a content-generating user than a newsroom which sees UGC as a vital part of the mix of the content it puts out to readers. And the newsroom which is inviting readers into the process of gathering news and information is a newsroom which has a bigger chance of building up a loyal, frequently-returning audience in the future.
I was prompted to write this post after reading about the Derby Telegraph's decision to ask users of its Facebook page whether or not it should report on a public official who had been caught looking at porn at work. It asked whether readers felt it right to name and shame this man, described as a 'public sector worker.' You could argue there isn't enough detail there to allow a reader to make an informed choice, but it's a safe bet that if it's prompted a debate in the newsroom, it'll be worth throwing it out to readers to get their view.
The commentarati of Hold the Front Page soon got their teeth into the Telegraph's decision. It was a dangerous precendent said one, a sign that newsrooms no longer have their pulse on what people think to another, news decisions by committee for another and allowing a minority to determine what gets written to one more.
As an aside, if the Derby Telegraph is the same as most news publishers, asking for an opinion on Facebook isn't asking a minority, it's akin to going to the biggest supermarket which sells the most number of papers and canvassing views on the front page.
Grey Cardigan, the brilliant blogger who lives these days on Spin Alley, described the Derby decision as 'dithering' and said:
Newspapers cannot be run by committee. They need a strong editor who is not afraid to make the tough calls and to back his own judgement. What next? Shall we publish the news list and let social media tell us what to publish and what to bin? It's a huge mistake and one which undermines every journalist on that newspaper.
Actually, why not publish the news list and see how people react to it? A bit like the New Haven Register (more of which below). There does, of course, have to be a balance. If you just chase the most popular, you no longer stand out and your brand becomes diluted. I'm not arguing that a newsroom becomes a slave to social media opinion, but it's crazy to dismiss the views of people who have taken the time to like your Facebook page or follow your Twitter feed on the grounds that they are, well, 'just' readers.
In Chicago, radio station WBEZ turns to listeners and says: What should we investigate next? Some of the questions are very quick to answer, others are more detailed.
In 2008, the Liverpool Daily Post used a similar crowdsourcing approach to become the first newspaper to report the scale of unhappiness of fans at the then Liverpool FC owners, to get information to hold the city council to its economy-crippling Big Dig (do all the roadworks at once) approach and to find out what was going on with a troubled airline operator, Flyglobespan. Information which made each of those stories as powerful as possible was only found once the paper had told readers what it was looking for and asked for advice and tips.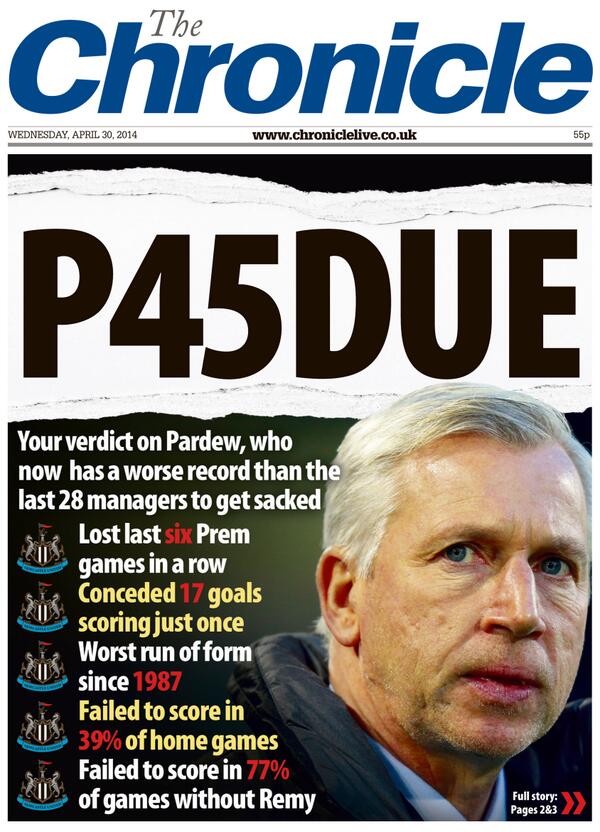 As I said, the New Haven Register in Connecticut liveblogged its daily conference, while the nearby (in American distance at least) newspaper in Torrington installed a cafe in its newsroom and held events – including editorial meetings – in the public space. Some ideas work, some don't. The same company also held mobile newsroom events where reporters were literally on show and available.
In Newcastle, the editor of the Chronicle, Darren Thwaites, invited readers to come up with a headline for a story about United manager Alan Pardew. The result was magnificent.  The West Briton last week published a 2,000 word letter of complaint about it on its website. Before you flinch, ask yourself what's better – having sight of a debate about your brand, or it going on elsewhere?
The change technology and 'the internet' has had on journalism can be overstated. Good stories are still we read, we just have many different ways to tell them. But we can't overstate the impact the technology has had on our relationship with the reader.
The answer to the question: Just how involved are you prepared to let readers become in your work? should be the most important one in any future job interview in a newsroom which knows what is expected of it in the future.